Trading

Customers bringing us used books will receive 20% of each cover price in trade credit (maximum $2.50 per book).
We do NOT pay cash for books, we only offer trade credit to be used in purchasing other books.
We do NOT take most hardbacks, college textbooks or outdated non-fiction.
We reserve the right to refuse any book.
---
Buying​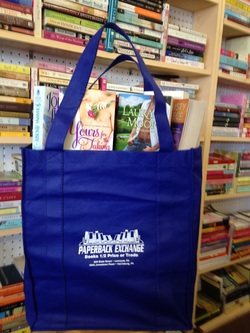 All used books sell for 50% OFF the cover price.
Brand new paperbacks sell for 20% OFF the cover price.
We can special order any book in print by request with up to a 20% discount.
Request a book online.
Trade credit can NOT be used on special orders, brand new paperbacks, or books held on reserve at either store.
A $1.00 transaction fee is applied to all sales when trade credit is used.
If you plan to use trade credit to buy books in classics, science fiction, children's and bestsellers* categories, it must be credit received by returning a book in those categories. Other than these four, you can buy and trade in any genre!
* We define 'bestsellers' as books that have been published within the last calendar
year.
---
---
We are committed to serving your reading needs!